Four Master's Degree programmes offered by Paul Sabatier University currently participate in the TESS masters programme through some of their specialisation streams. Each Master's degree equates to 120 ECTS. The TESS programme is an advanced course for selected students common to these four Masters that aims to offer attractive career opportunities to the best students in the fields of Earth and Space Science.
Biodiversité,
Ecologie et Evolution
Only two specialisations of the M2 BEE are eligible for the TESS programme: EA (Ecosystèmes et anthropisation) and GATE (Géomatique pour l'aménagement des territoires et l'écologie).
Sciences de la Terre et
des Planètes, Environnement
Both specialisations of the M2 STPE participate in the TESS programme: TERRE (Terre, Exploration, Recherche, Ressources, Evolution) and OGDE (Observation et gestion durable de l'environnement).
Sciences de l'Océan,
de l'Atmosphère et du Climat
All three of the M2 SOAC specialisations are eligible for the TESS programme: DC (Dynamique du Climat), EE (Etudes Environnementales) and OA (Océanographie et Applications). All the courses of the OA specialisation stream take place at Abomey-Calavi University in Benin, offering international exposure.
Sciences de l'Univers
et Technologies Spatiales
Both specialiations of the M2 SUTS participate in the TESS programme: ASEP (Astrophysique, Sciences de l'Espace et Planétologie) and TSI (Techniques spatiales et Instrumentation). International opportunities are available to students through the existing SpaceMaster partnership with Luleå University in Sweden.
TESS, an advanced course for selected students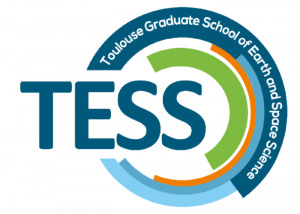 In addition to the four Master's Degrees mentioned above, students recruited to the TESS programme will complete an advanced course worth 30 ECTS. The programme runs concurrently with the two-year Masters for a total of 150 ECTS.
All TESS students are required to attend the Core Courses. The three compulsory modules of 26 hours each are divided up over three semesters for a total of 9 ECTS.
Each student selects three interdisciplinary options among the 10 modules offered. The three 26-hour courses run over three consecutive semesters for a total of 9 ECTS.
Observation Oriented
Project
Each student chooses an Observation Oriented Project among the six options offered. The 60-hour project runs over the two years of the Masters programme for a total of 6 ECTS.
The reinforced internship is extended beyond the minimum requirements of the Masters Degrees. Students are encouraged to seek internships abroad and an additional 6 ECTS are awarded.
TESS in a nutshell

UPS MASTER'S DEGREE
120 ECTS

ADVANCED Course
Additional 30 ECTS ⬇
M1 S7 ● Making measurements
M1 S8 ● Processing and managing data
M2 S9 ● Putting data in broader context
CORE COURSES
26h (x3)
3 ECTS (x3)
M1 S7 ● Option 1
M1 S8 ● Option 2
M2 S9 ● Option 3
INTERDISCIPLINARY OPTIONS
26h (x3)
3 ECTS (x3)
M1 S8 ● Observation oriented project
M2 S9 ● Observation oriented project continued
M2 S10 ● Observation oriented project continued
OBSERVATION ORIENTED PROJECT
60h
6 ECTS
In 1st or 2nd year of master's degree
according to the student's preference
and compatibility with the master's stream
REINFORCED
INTERNSHIP
6 ECTS